As the group arrives into Mizen Mura, the southern border of the imperial lands, Isawa Masanori quickly finds an inn and arranges for lodging. Once the rooms were taken care of everyone goes to change and dry off from a day of riding thru the rain. Once all the armor was dried and kimonos changed and dried Hida, Shinjo, Kakita, Shosuro, Kitsu and Shiba decide to go visit Shinden Tengen. Akodo decides to stay and relax after the day and take some time cleaning and polishing his armor and sword.
Upon arrival to the temple to the Fortune of Literature they are greeted by a friendly monk who asks how he can assist them. He explains that the temple has a great library and that all visitors are encouraged to browse as long as they do not remove any of the contents or damage them. Kitsu is interested in any history that the libraries of the Akodo and Ikoma may be lacking. Shosuro is interested in their play collection while Kakita is looking to brush up on the details of the Setsuban festival and its history. Hida and Shinjo are interested in anyone who can help them translate their "boxeen" book and are escorted, with Shiba accompanying them, to the vaults.
As Shiba, Hida and Shinjo make their way to the vaults Shiba seems to be more on alert then the situation dictated and kept his hands close to his daisho. Hida, noticing this weird behavior, asks what was bothering him. Shiba informs him that there are hidden sentries in the walls watching them. Hida looks around but doesn't see anyone outside of the obvious people working at different stations. Hida comments that are probably just making sure no one steals anything but Shiba says that it is unlikely because they are in an enclosement formation instead of a defensive one. Noticing the interest of their guide they stop the conversation.
Soon after, they reach a monk working on some gajin books. He examines the tomb that they had brought with them and comments that he has seen the alphabet before but the letters are not arranged in the way he knows. He comments that he could possibly eventually translate the book but it would take many months if not years. He says his knowledge of the alphabet is limited but if they could find a more complete alphabet conversation it he, or someone talented at decoding, could translate it for them. He says the Mantis clan has some dealings with gajin who use a similar alphabet and could possibly be of some assistance. They thank him for his assistance and make their way back to the main library.
Meanwhile Kakita had gathered more information on the different and had moved on to the games that are practiced at Winter Court. Shosuro had continued looking thru the list of plays and refreshing her memory on some she had not seen for quite a while. Kitsu, finding very little history he was not already familiar with, moved on to refresh his memory on the ancestors and specific families of his comrades.
In the intervening time Akodo had decided to visit with the Tortoise. Bringing with him a small amount of sake to share he had sat down with the ashigaru and Samurai of the Tortoise clan. After some drinking and talking, the ashigaru ask if Akodo would honor them with a story. Akodo decides on a more humorous story and tells the story of the "Beaten Monk". A drunken monk who wandered the empire and wherever he went he would piss in the well but no one knows why. He was called the beaten monk because he always leaves black and blue. Everyone found this quite amusing. Afterwards the talk drifted to a comparison of mass military tactics and the teachings of Shintao concerning the placement of people in the Celestial Order.
Back at the temple Kakita had finished with the games at court as rereading some key parts from the "Subtlety of Court" (a comparison between Book of Sun Tao and court. It was considered by many to be an essential guide to courtly life). Once she was finished with that she moved on to review music from the different clans of the Empire and made copies of a few songs to later practice. Kitsu had looked at some spirit realm scrolls and researched any local folklore from the regions they would be visiting. Shosuro had satisfied her fascination with ghost by looking at their different ghost lore scrolls. Shinjo had gone off to review different horse and raptor breeding scrolls and scrolls pertinent to the different flora and fauna of the areas they would be visiting. Shiba had stayed with Hida as he reviewed their selection on different martial arts. He found a collection of scrolls titled "Way of the Open Hand" and had written down the names of a variety of marital arts and where they came from.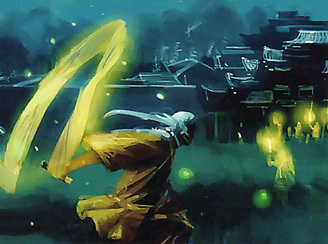 After a while a Hida found their chief monk and inquired about their martial art practices. The monk was evasive about the matter but after some questioning he told Hida that Shosuro might have some more details about their personal defense style. Afterwards everyone gathered together and went out to the inner courtyard while the shrine to Fortune of Literature was located to make a simple prayer in thanks. Following that they stopped to watch a practice sparring match between two of the monks. Shiba informed Hida that they were being watched by over eighty people at that moment but Hida only noticed one shadowy figure up on a archway. Once the demonstration was done they headed back to the inn.
As they approached the inn they heard laughter and the sound of Akodo's voice. Kitsu went in to check on him and walked in on Akodo saying "Then the tortoise said to the crab at least they don't like me with butter". After the laughter ended everyone got enough sake for one last drink for Kitsu and then Akodo and Kitsu headed into the inn and joined everyone for dinner. Everyone talks about the different things they had found. They also discuss the things Shiba had discovered and how he knew. Shiba tells them about his innate ability to discern the location of any life forces within a certain distance of him. Kitsu and Shosuro discuss the different types of ghosts and the ghost folklore for the already they will be visiting. Hida talks Akodo about copies of the "Way of the Open Hand" at the Akodo libraries. They discuss possible future plans of purchasing a copy made of the book.
Finally the group heads to bed and prepares for the journey south do Kyuden Doji.